Come for 6 nights camping and 5 day workshop with evening jams, classes conducted by Stu Phillips, Aug12-18. This is the second annual event with Stu and presumably we will be doing this for years to come.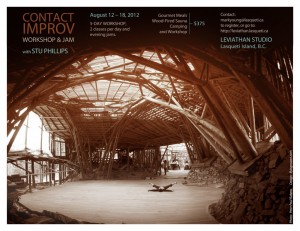 Workshop tuition, gourmet meals, camping, wood-fired sauna and transportation on Lasqueti,                   $375  work-study and scholarship available.
"What It Is", an Exploration of Intense Improvisational Contact Dance,  Disintegrating the gap between where one really is and where one wants to be, closing that relationship completely, Tuning Our Minds to our Physical and Emotional Bodies Completely, to where they are in each moment, and physically expressing from there in relationship.  This workshop enables dancers to be and learn from where they are, with full acceptance, allowance and manifestation.
2 Daily classes consist of methods of being, particularly with self, and extending those out when "interacting" with others, by deconstructing, undermining and bypassing easily our usual or known mental and physical patterns, and allowing our true/real raw emotional energy to transform our dance movement, as well as ourselves, through behaviorally articulating who we are in aligning with how we are, perfectly.
Stu Phillips is a Professional Contact Improvisational Dance Performer and Teacher of 25 years, teaching and performing throughout the U.S., Canada and New Zealand, also teaching and performing Improvisational Dance and Theater for 30 years throughout US.  The focus is full expression, tuning to emotional and energetic reality constantly in personal flows, portraying that onto students with gentle psychic sensitivity.