This workshop is now FULL.

Come for 5days of two classes per day and 5nights of jams with John Faichney and Jennifer Mcleish-Lewis.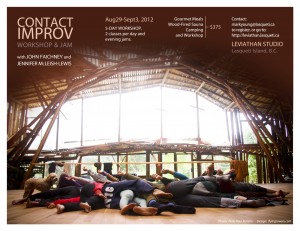 Workshop fee, all meals, camping and transportation on Lasqueti-$375
Arriving Wednesday Aug29  for orientation, dinner and first jam. First class is Thursday morning. Last class is Monday Sept3, ending at 3pm.
In John's classes, we will emphasize three critical skills for Contact Improvisation
duet-work. First, we will refine and re-tune our interest in migrating touch. We will begin, as always, channelling our partner-awareness through a single, contiguously-rolling touch-point. At the same time, we will turn our kinaesthetic focus away from generic qualities of movement -weight, inertia, extension, and so on – and toward CI's primary, idiomatic concern: 'writing on' , and being 'written on' by, the body's surface. From this base, we will seek out the invitation-and-reply that happens when we resist, exceed, and pivot against the trajectory of our partner's movement initiatives.
Second, we will take up this same question of initiative – who gets to decide what happens next- as a feature of any CI interaction (that is, not just as concerns writing-lines-on-the-body.) We will attempt to intensify our claim on the moment-to-moment initiative of the duet, while coming to understand that "who gets to decide what happens next" isn't a question that can be decided in any final sense. We will return to this theme again and again throughout these classes. Here, particularly, some of the exercises will exploit game-like and/or martial-arts-like structures, opening onto a vision of CI as a 'both-speaking-at-once / both-listening-at-once' conversation.
Finally, we will extend our expressive and compositional reach, particularly by re-interpreting our duets' moment-to-moment 'thinginess' as improv topics. Now, many improv forms make a place for this approach, but doing so as Contact Improvisation presents special challenges. How do duet-partners make use of touch dynamics to settle on the moment's particular topic – or even know that the moment is orienting to a topic at all (rather than a phase of the freely-unfolding improvisation)? How do they sustain the 'whatever-it-is' that they are constituting without falling-back into mechanical repetition? But topics are too intriguing to ignore; they allow for structure to emerge out of undifferentiated movement, and provide yet another context which raises and is structured by the question of initiative.
In general, we will under-emphasize solo forms of kinesis, invention, and performance, and enhance and extend those modalities which are specific to CI and which depend, for their existence, on the possibility of dialogue.
John Faichney (http://www.personae.com) has practised Contact Improvisation since the form's inception. He taught CI workshops at Leviathan Studio (with Anne Cooper) in 2010 and (with Eryn Dace Trudell) in 2011.
In Jennifer's class we will  explore moving in and out of contact with partners, codified techniques of the form (skills) and open dancing with self and others. We move from the floor, to standing, back to the floor cultivating a sense of grace and flow. Touch is inherent in these practices, so come ready to touch and be touched. Boundaries are asserted and respected as we become more sensitive to one another's space, both energetic and physical.
Jennifer McLeish-Lewis
Performer – Producer – Choreographer – Teacher – Radio Host
Jennifer McLeish-Lewis is a west coast based contemporary dance artist working internationally. She has performed in Brussels at the Danse en Vol Festival with MACHiNENOiSY's Body/Building (2003), down the west coast of the United States with Karl Frost's Axolotl (2005), in Berlin with Felix Ruckert's United Kingdom (2006), and at The Banff Centre during a residency with The Tomorrow Collective (2008). In May 2007 she was the assistant-director of a piece by Martha Carter at the Dance Week Festival in Zagreb, Croatia.
For the last three years she has been moving in a theatrical direction with her work, co-creating and performing in Radix Theatre's Fever (Hive), in her own pieces like fishgirl (Battery Opera's Bob's Lounge and Leaky Heaven Circus's BLiNK) Privileged White Girl (at The Carroll Street Festival) and The Naughty Elf (BLiNK). A major theme and through line in her work is the sacred feminine.
Jennifer trained across Canada at The Alberta Ballet School of Dance, The School of Toronto Dance Theatre and MainDance, which she graduated from in 2002. In 2003 she was the recipient of the Holly Body Tattoo BC Emerging Dance Artist Award. Jennifer was a company member of mmHoP from 2002-2009, performing in stage and film work and at times as rehearsal director or choreographer's assistant (martamartahop.com). Along with the artists mentioned above, Jennifer has performed works by Peter Bingham, Susan Elliott, David Pressault, Helen Walkley, Delia Brett and Daelik. Her training in contemporary techniques, ballet, contact improvisation and yoga, as well as her experience in club culture make her a versatile interpreter.
Jennifer was a founding member and one of three co-artistic directors of The Tomorrow Collective; a company that produces the interdisciplinary performance series Brief Encounters. The "artistic blind date meets creation under the gun" event created a buzz in the Vancouver arts community as "one of the city's hottest ongoing series" –The Georgia Straight, 2007. As a platform for accessible and inspiring interdisciplinary work, Brief Encounters is funded by the Canada Council for the Arts and The City of Vancouver. Jennifer left The Tomorrow Collective in 2009 to pursue her solo career.
Jennifer has had her choreography presented at professional venues such as The Dancing on the Edge Festival, Dances for a Small Stage, Signal and Noise, The Scotia Bank Dance Centre's DanceLab Series, Lucky Trimmer (Berlin) and in a short film for the National Film Board of Canada. Jennifer is a certified Hatha Yoga instructor who has taught since 2004. As a contact improvisator she leads workshops, classes and jams in the form. Her most recent creative endeavor is an all women's radio show called GIRLcrush on Cortes Radio, every Wednesday afternoon from 1-3pm PST.