The weather is looking great for this weekend. There are now 25 people registered at this moment(Tuesday May 14). Several rides are available from Vancouver. Please ensure you have a reservation with bcferries.com if you are planning to bring a car.
Come for the Victoria Day long weekend with Stacey Murchison and Monica Strehlke. Arriving Friday May17. Continuing till Monday afternoon, departing on the 4pm ferry.  All meals, camping, transportation on Lasqueti and tuition-$200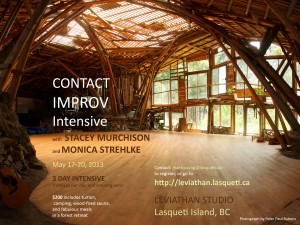 First jam is Friday after dinner. First class is Saturday morning. 2 classes per day. Jam every evening. The last of 6 classes is Monday afternoon.
Starting with an improvised warm-up that will prepare us for each day, we'll focus on sensory awareness, relating to space/one another, finding tone in the body and articulating & organizing the limbs in connection with the spine. Through a balanced blend of exercises and dancing, we'll look at strategies for building skeletal supports for taking and sharing weight, finding softness and a sense of flow, safe landings and improvising from the point of contact. This weekend will be a great way to tune up your dancing for Karen Nelson's workshop! All levels welcome
Monica Strehlke is a professional dancer, teacher and costume designer based in Vancouver. She has studied extensively with Peter Bingham, performed and attended workshops in Canada and internationally and has been practising Contact Improvisation for over 15 years. As a teacher, Monica is interested in concrete and creative ways to cultivate strength, alignment and softness in the body to allow for more responsive dancing.  By understanding the technical and physical principles, we allow for more freedom and creativity in dancing.  Monica is a company member of EDAM Dance, and also recently worked creatively with MACHiNENOiSY/Delia Brett, Walter & Amy Kubanek in Edmonton and Robin Poitras' Rouge-gorge. She is a graduate of Grant MacEwan College and Simon Fraser University.
Stacey Murchison began her life as a dancer in Alberta. As a child she attended classes in tap, jazz, ballet and gymnastics. She attended Grant MacEwan College in Edmonton and holds a B.A. in dance from the University of Calgary.  She is an active company member of EDAM Dance (Vancouver) under the direction of Peter Bingham.  As a Contact Improvisation teacher Stacey is interested in exploring sensory perception, creative innovation and the pure advancement of skills.  Since 2006 she has been capturing improvisational movement on various digital recording devices and experimenting with dance video production.  She is very excited to be teaching with Monica this summer at Leviathan! Here is a link to some of Stacey's video works: http://vimeo.com/26553917
To Register go to 'Contact Us' on the right side of the screen and 'send us a message'. Please specify which event you are registering for.