Contact Improv workshop and jam with Marta Wrzesinska
Arrive Sunday, July 31 in the afternoon for dinner and orientation. This workshop begins on Monday, Aug 1 at 10am with opening circle. $1200canadian includes tuition, lodging, all meals and snacks, transportation on Lasqueti, and taxes.
CONNECTED BODY
Contact Improvisation is a form of dance that opens the doors to us to play infinitely, proposing a single guideline: to share a meeting space in the movement through a point of contact. However, sometimes we feel stuck, bored, without tools or playing in the same ways. This can happen when we fail to connect with ourselves or with the partner, space, group.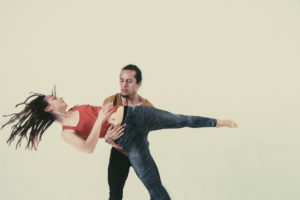 The proposal of this workshop is to create a state of availability and honesty in the body, to open the way for new movements, routes and spaces. We will try to understand what it means to be available in dance, looking for a relaxed body sensation, without tensions, but not abandoned. We will talk with our bone structure to be able to find the sensation of muscle relaxation and (re) know the basic concepts of biomechanics. We will explore the sensation of water and the weight of our body, allowing water to choose the path on which to travel. We will travel to the world of spirals, falls, rolling and inertia, using the ground and its help to find ourselves in the vertical position. We will meet guidelines and exercises that make it easier to be in continuous, fluid and pleasant movement. We will dance with a body connected to its center, to the companions, space and universe 🙂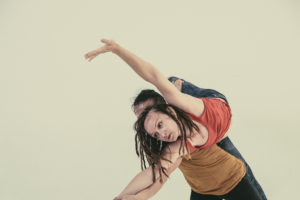 CONNECTED BODY/CUERPO CONECTADO
Contact Improvisation es una forma de danza que nos abre las puertas a jugar inifinitamente, proponiendo una sola pauta: compartir un espacio de encuentro en el movimiento a traves de un punto de contacto. Sin embargo a veces nos sentimos estancados, aburridos, sin herramientas o en reproducción de las mismas formas. Esto puede suceder cuando no conseguimos conectar con nosotros mismos o con el compañero, espacio, grupo.
La propuesta de este taller es crear un estado de disponibilidad y honestidad en el cuerpo, para abrir camino a nuevos movimientos, recorridos y espacios. Trataremos de entender que significa estar disponible en la danza, buscando la sensación de cuerpo relajado, sin tensiones, pero no abandonado. Contectaremos con nuestra estructura osea para poder encontrar la sensación de relajación muscular y (re)conocer conceptos básicos de la biomécanica. Exploraremos la sensación de agua y el peso de nuestro cuerpo, permitiendo que el agua elija el camino por el cual transitar. Viajaremos al mundo de las espirales, de las caídas, las rodadas y de la inercia, usando el suelo y su ayuda para encontrarnos en la posición vertical. Conoceremos paútas e ejercicios que facilitan estar en movimiento continúo, fluido y agradable. Bailaremos con cuerpo conectado a su centro, a los compañeros, espacio y universo 🙂
Marta Wrzesinska Dancer and contact improvisation teacher, passionate about contemporary dance, aikido, play-fight, Russian system, improvisation, Feldenkrais and movement as a means of personal growth and a way of expressing oneself. He has trained in contemporary dance with Iris Muñoz, Michalle Mann, Leonardo Robayo, Lucía Marote; in improvisation contact with Cristiane Boullosa, Martin Keough, Mirva Mäkinen, Urs Stauffer, Dani and Eckhi, Sebastian Flegiel among others and Integrative Body Process (PCI) at In Corpore School with Antonio del Olmo. With different companies he continues to investigate the technique of IC, multidisciplinary improvisation, video dance and performance. He has collaborated with several artists both in Poland and in Spain, including: leOma, Biuro Podrozy Theater, Alter Ego, Open Spaces Project, Sharon Fridman, La Paxton Evolution, dance company. Currently a dancer in the company Dogs of another life. Every day he lives in Madrid and combines his artistic concern with the work as a teacher and organizer of the events related to the IC.
Marta Wrzesinska
Bailarina y profesora de contact improvisation, apasionada por danza contemporánea, aikido, play-fight, systema ruso, improvisación, Feldenkrais y movimiento como un medio de crecimiento personal y una forma de expresarse. Se ha formado en danza contemporánea con Iris Muñoz, Michalle Mann, Leonardo Robayo, Lucía Marote; en contact improvisación con Cristiane Boullosa, Martin Keough, Mirva Mäkinen, Urs Stauffer, Dani y Eckhi, Sebastian Flegiel entre otros y Proceso Corporal Integrativo (PCI) en Escuela In Corpore con Antonio del Olmo. Con diferentes compañias sigue investigando la técnica de CI, improvisación multidisciplinar, video danza y performance. Ha colaborado con varios artistas tanto en Polonia, como en España, entre ellos: leOma,Teatro Biuro Podrozy, Alter Ego, Proyecto Open Spaces, Sharon Fridman, La Paxton Evolution, cía de danza. Actualmente bailarina en compañía Perros de otra vida. A diario vive en Madrid y compagina su inquietud artística con el labor como docente e organizadora de los eventos relacionados con el CI.
To register go to the right side of this page and click on 'Contact Us' to send an email. $1200Can includes all meals, tuition, camping, dormitory, taxes and transportation on Lasqueti.