Come for a one week workshop with Tom Goldhand from Israel. Arrive on Sunday, Sept. 11 for orientation. First class is Monday morning. Final jam is evening of Friday, 16th. Departure is after breakfast on Saturday, 17th. $600 includes tuition, all meals, accommodation and transport from the ferry to the studio. Go to 'Contact Us' on the right side of the page to inquire and register.
FROM FEAR OF FALLING TO FREE FORM FLYING
The fear of falling is innate in us, it is a born reaction that everyBODY shares from birth.
As soon as the floor rush towards you, or you fall towards the floor, your body's reflexes kick in – your muscle's tension rise and you embrace yourself for the impact.
Tension rises not from falling but from the fear of it. In this intensive workshop we will learn to see, feel, experience this and go beyond the fear of falling into a different place.
Once the body learns to go beyond this reaction a numerous pathways opens up, and the way to higher levels of dancing is opened – dancing with and over your partner, sliding on and off a body in different heights, and flying higher.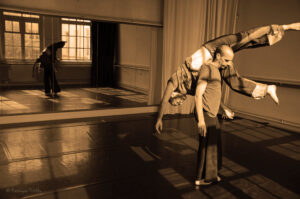 When the fear of falling is gone the joy of flying can be experienced, and with that comes the free form dancing of Contact Improvisation.
In this workshop we will experience and explore how we can learn to override our reactions into a freeform, dancing and extending it into flying.
By the end of the workshop we will see how we will be flying on a partner in a safe way, and how to feel secure and to ride this flow even in a less secure situation, which in the past might have brought our reflexes and reactions to burst out.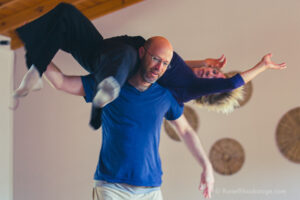 In the first two days of this intensive workshop we will practice and investigate how to increase our physical abilities in Contact Improvisation – Sharing weight, different pathways, lifting and flying.
Once we will have our Contact Improvisation language on a higher level we will start to challenge our reflexes and reactions our fears and our tendencies and see what physical sensations arrive.
We will learn to be light as a feather and to land quietly on the floor, we will learn to use our entire body – muscles, bones, joints and connective tissue in order to achieve this not so easy task.
This workshop is intended for all levels practitioners of Contact Improvisation from beginners to very experienced practitioners.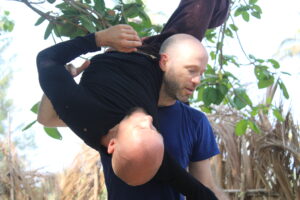 In the workshop we will address as well the following 4 concepts :

Tension, Intention, Attention, Extension

Tension – How does our body move? what mechanism and physical forces drive our muscles? and how can we play with the tonus of our body? what intention do we give to our muscles and movement and how does it change it.

Intention – Our will to move, direction chosen, speed decided. Our intention is the driving force for movement manifestation in the body, yet how much of it are we aware of at any specific time and how much is "just" a reflex, or a pattern that the body has acquired over the years without giving it the proper attention.

Attention – Finding the gap between Intention to Tension, the moment where our will becomes physical body movement. By adding awareness to our will we can create attentive movement that is not merely a reflex to an outside signal. Our attention can go inside the body, to our partner and even far into the extended surroundings.

Extension – Spreading the limbs to the far ends of the Kinesphere, and our movement to the far end of space. Extension is one of the most used qualities in Contact Improvisation, we use it when we reach high over our partner, or when we reach down towards the ground. Despite the strong physical movement to the far edges of our body's kinesphere, when a "full and true" extension is being made we try to stay with the minimum amount of tension in our body as possible.

Learning how to do that requires all of our attention and intention.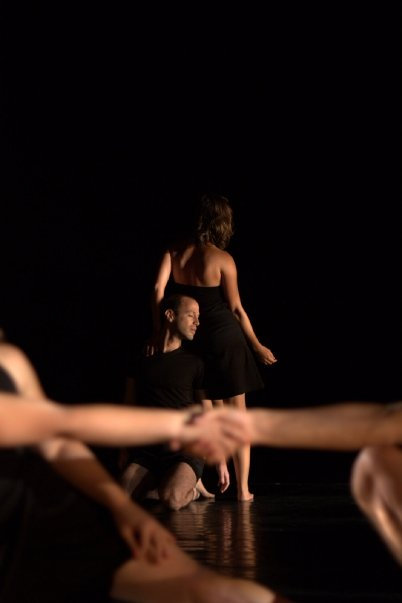 Tom Goldhand (NL/IL):
I am a performance artist in the field of Dance & Contact Improvisation. After finishing my studies in Israel I moved to Amsterdam and co-founded with 5 other performance artists the group – Mono Collective that performs free and anchored Dance and Contact Improvisation pieces as well as choreographed pieces.

In the last years I have been performing and giving workshops on the techniques of Improvisation in Dance and Contact. I teach weekly classes of Contact Improvisation in Amsterdam and give longer week intensive workshops around the world.
All of the above are just words that are saying basically: Contact Improvisation is my passion and I love sharing it with everyone.
Daily Schedule:
8am breakfast
10am morning class
1pm lunch
4pm afternoon class
6pm dinner
8pm jam and sauna